Program Highlights
The online programme includes video lectures, discussions, live online teaching sessions and assignments. We expect learners to dedicate 4 – 6 hours per week over the 10 weeks of the programme. Throughout the programme, we will explore the industrial digitization, from what it is and where to start it, to how to implement it, new strategies of digital revolution.
Technology Deep Dive
From overview of Industrial IoT to the components involved and its management
Inspiration to Implementation
Understanding the Industrial digitization, Manufacturing use cases and prioritizing it for effective data-driven manufacturing
Data Science Tools
Learn about the various modelling tools for data-driven decisions and process improvement
Physical & Digital World Integration
Get to know about how the physical systems in the industries get integrated to the digital software and driving business results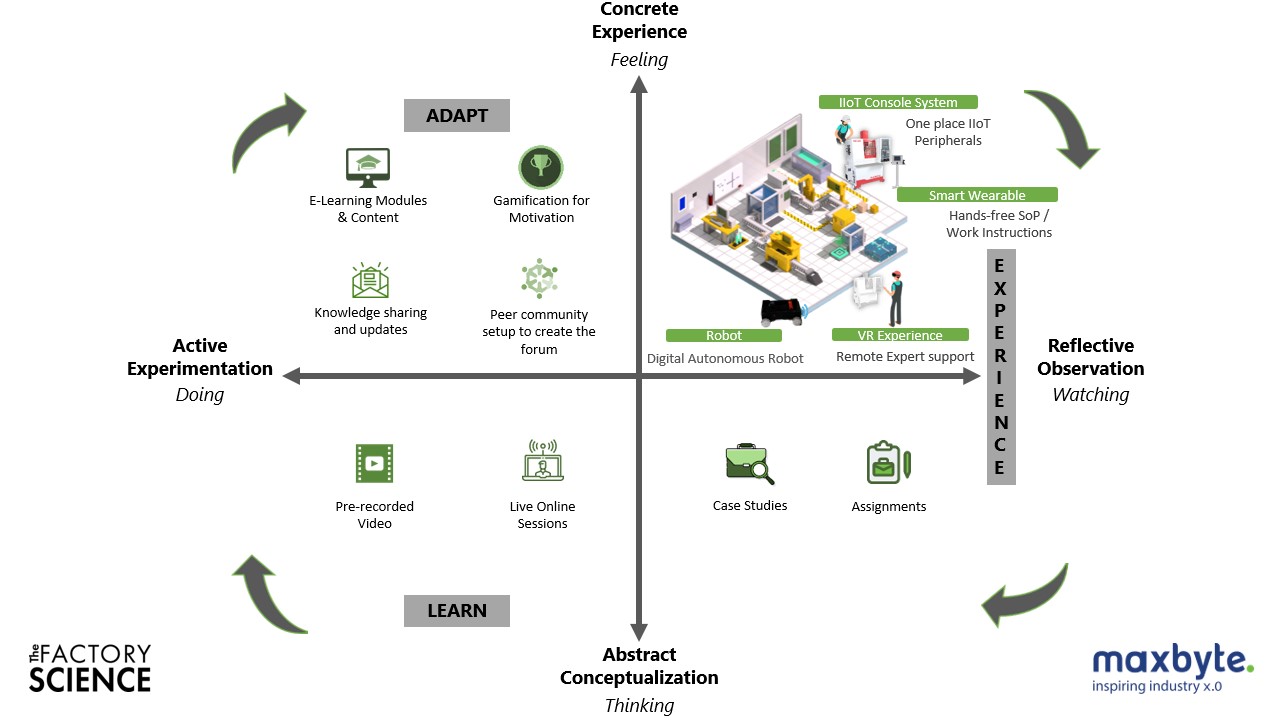 Learning Framework
The Factory Science learning methodology is built on Kolb's Learning Styles and Experiential Learning Cycle concept. According to Kolb's learning model, the learning framework is seggregated into Experience, Learn and Adapt.

Experience In this phase, one can have a live experience of the concept they learn and can feel it. Likewise case studies and assignments will be based on current industry challenges.

Learn In learn phase, one gets access to the e-learning platform where there are number of online courses with pre-recorded videos and live sessions. What one has experienced in the experience phase will learn the concepts here with practical examples and sessions.

Adapt Training has no value if the knowledge gained cannot be retrieved. In this phase, one will get to reinforce the knowledge they have gathered from the experience and learn phase during their training.

"Easy to use, very detailed and voice over with more details."

"Comprehensive and very informative content."

"It is a go-to material for any digitisation professional."

"Good content, the UI was also good. Creative way of learning. Definitely lot of efforts have been taken by your team and the outcome has been exceptional."

"My successful completion of The Factory Science - Manufacturing Digitization Management certification program helping me to understand the IIoT/Industry 4.0 concepts and technologies and I am able to relate well with my industry 4.0 projects."
The Factory Science
Learner Advantages


Digitization SMEs
As Instructors

Mentors to Support & Hand-hold
to Stay on Your Digitization Track

Community to Build
Network & Collaborate

Expert Guidance on
Digitization Career Path

Access to Industrial Implementation
Case Studies & Knowledge Base
Are you ready to upgrade your workforce skills for the factory of the future?
Your investment in this online learning and development program is $1217 only

Investment less than companies send their teams to a conference

Helps to close gaps in your strategy & create alignment across teams

Helps to identify, communicate & address pitfalls in digitization activities

Makes you proficient in managing complex digitization activities
What's Included in the Program
Features/Benefits
100+ hours of online live session on Industrial Digitization
Hands-on Experience with the templates and tools to manage digitization
Access to digitization resources and knowledge base
Certificate of completion from The Factory Science
Connect with exclusive community of Manufacturing Digitization people and continue learning with member-only events
Try for your Organization